Empire State Building Tours
Empire State Building Tours (Updated August 2022)
11,945 Reviews
|
New York City, USA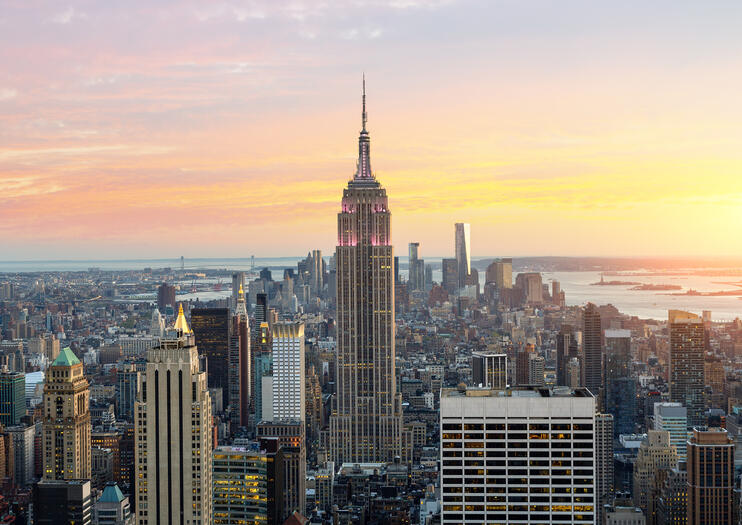 Start spreading the nooz… New York City's Iconic Empire State Building is one Historic Landmark you must add to your bucket list. All 102 floors of this iconic structure, that defines the modern Art Deco era, tower majestically over Midtown Manhattan's Fifth Avenue between West 33rd and 34th Streets. Built on the site of the original Waldorf-Astoria when the hotel relocated to Park Avenue, the Empire State Building opened on May 1, 1931, having taken only 13 months to build. The grand entrance, with its traditional features, provides a stunning welcome to visitors who flock to this Eight Wonder of the Modern World daily.
You can easily spend a full day, or more, exploring the various exhibits and observation decks available. The 86th Floor offers spectacular 360-degree views of Manhattan and beyond from its outdoor deck space. On the 102nd floor, 1,250ft (381m) above the city's bustling streets, a smaller enclosed deck allows views up to 80 miles on days of clear visibility. Enjoy a thrilling, educational tour around the city on the motion simulator New York Skyride, or a more relaxed walk around the 'Sustainability' or 'Dare to Dream' exhibitions. There are many shops to browse and restaurants to suit every palate. Enjoy your visit to this iconic building… it's a journey back in time and to the future wrapped in one.
Address: Fifth Avenue at West 33rd & 34th Streets, New York City. Purchasing an express pass is recommended as elevator queues to the observation decks are normal. With an express pass, you can reach the 86th floor in less than 60 seconds. If traveling by subway, 34th Street/Penn Station or Herald Square are the best options.
Read More